XP8 - Adrenochrome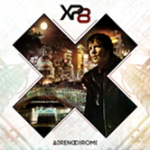 Tracklist:
01. Awakenings
02. Camden Town
03. Getaway
04. Information
05. Night Run
06. Beyond The Looking Glass
07. Going Underground
08. Hunters
09. Hostages
10. Showdown
11. Inside Their Heads
2393 Records (2013)
Dark Electro
Album / CD, mp3
Reviews:
(bk / 22-01-2014) The newest effort of the London-based Italian dark electro duo XP8, well known to electronic music lovers for their very personal and hardly classifiable style, was funded through crowdfunding, and was immensely successful. Though the vast majority of the contributors (myself included) hadn't listened to the album before, our instinct proved right.
"Adrenochrome" is named after a cyberpunk novel of the same name, written by Marko from XP8 in the late 90s (and recently revised). The fact that this album is named after the novel is no coincidence though; XP8's latest effort is a full-grown concept album based on the novel - yeah, right, like those prog rock albums from the 70s! That in itself is quite unusual for an electro album, but there's even more: it's turned out a great album, which abducts you into the dreary yet fascinanting and adrenaline-filled cyberpunk version of London described in the novel, making the atmosphere almost palpable; at the same time, the songs work perfectly as stand-alone tracks for the clubs.
"Adrenochrome" is a refreshing piece of dark electro music with a trancey edge and marked synth pop and more influences tucked into the songs without following any trend or belonging clearly to one "genre" or the other. Of course I won't give away too much of the storyline here, as you had better read it for yourself (you get the full version when you buy the album). Only that much - an important leitmotif throughout the whole story is being on the run, and that reflects clearly on such driven, up-tempo songs as "Awakenings" or "Camden Town". Especially the latter is a masterpiece of comtemporary dance music. It's got great melodies and harmonies to appeal to your ears and great though subtle bass lines and beats that go directly to your feet. The songs in general adapt to the mood and feel of the part of the story they're telling (each song is named after a chapter of the novel), and that makes them very varied and keeps the album interesting from beginning to end.
Well, what about the dancefloor songs? There's a whole bunch of club hits to be found on the album! While "Camden Town" is my absolute fave, "Night Run", "Beyond The Looking Glass" or "Showdown" will make you dance as well, whether you want to or not. "Going Underground" is slow and almost sludgy, with imaginative sounds and a mysterious air about it; and finally, the last track, "Intro Their Heads", is dreamy and relaxed with lots of trance elements, and a great way to end the concept album.
No labels, no rules, just great music - that's what "Adrenochrome" is all about. If you like your music entertaining and dance-compatible but are also into deeper, more meaningful stuff, go for "Adrenochrome". You won't regret it! It's available through XP8's Bandcamp store.