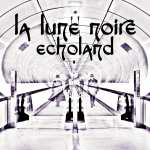 Tracklist:
01. Bring Out Your Dead
02. Bodiam
03. If Not In This World
04. Whispers Of The Haunted
05. Nothing To Fear
06. The Silence In Me
07. In Love With A Ghost
08. Lust
09. The Waiting Game
10. The Chosen One
11. Footsteps In The Dark
12. Almost Slipped Away
13. Vidu
Svinx Records (2014)
Dark Wave
Album / CD, Download
Reviews:
(bk / 29-01-2014) "Echoland" is the title of the third album of the Dutch duo La Lune Noire, which will be released in a few days on their own label Svinx Records. The promotional info describes it as a mix between dark and danceable electronics and more relaxed sounds, and that's not far from the truth, as the album is really full of magnificent dark wave songs in the broadest sense of the term - real classic dark wave reminding of the goth music of the end of the 80s/ beginning of the 90s, names like Killing Joke, Gary Numan, early Depeche Mode, Cassandra Complex, Clan of Xymox, Panic on the Titanic, Project Pitchfork... springing to mind. But that's just to give you an approximate idea of what we're dealing with, because the music has a marked personality of its own and doesn't sound outdated in the least.
The album starts with danceable dark electro uptempo songs, "Bring Out Your Dead" and "Bodiam", but that's not where it ends. This is not your average dark electro-tunes collection. Each song has its own personality, and as we advance further, we discover an array of postpunk, new wave and dark wave inspired tracks - some minimalist, some almost bombastic, some uptempo and dance floor-oriented, some slow and misterious, but all of them extremely well written and so bewitching that one almost can't believe that we're in 2014.
There's the slow "Whispers of the Haunted" - slow, but building up an incredible atmosphere, "Nothing to Fear", as goth as it gets, and full of electronic sounds, the incredible "Lust", an elegant and sophisticated EBM tune, same as "Footsteps in the Dark"... and so you could go on and on, the album is full of charismatic and captivating songs, all of them showcasing great melodies.
The lyrics revolve around the afterlife, ghosts and the possibility to communicate with them, a subject well suited to the nature of the music, or vice versa. Add a beautiful voice and a great production - and voilá, we have an absolutely outstanding dark and romantic electro-goth album which will impact the scene. You can buy it as a download via the Bandcamp of La Lune Noire or as a CD through their homepage.