05-10-2016 / UndercoverProduccionesBooking
Class of 76 (UK) en Madrid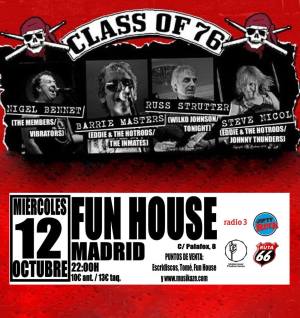 12 de octubre 2016
Fun House Music Bar
Calle Palafox 8, 28010 Madrid

Precio: 10€ ant. / 13€ taq.
Puntos venta: ESCRIDISCOS, TOMË, FUN HOUSE y www.musikaze.com y www.wegow.com

BARRIE MASTERS Eddie & The Hot Rods, Inmates
NIGEL BENNET The Members, Vibrators
RUSS STRUTTER Wilco Johnson, Tonight
STEVE NICOL Eddie & The Hot Rods, Johnny Thunders
https://www.youtube.com/watch?time_continue=1&v=7Xs7FMv-j3c

CLASS OF 76, es una banda única que rinde homenaje al Punk y la New Wave de mediados a finales de los 70´s, y es "única" porque sus componentes participaron activamente de ese movimiento ocupando los titulares musicales y radios de la época, participando en aquellos míticos conciertos y festivales y vendiendo entre sus componentes varios millones de discos.

https://www.facebook.com/events/964423097036868/