28-09-2018 / Unterwelt-Dark&Gothic Club
Fiesta en Unterwelt-Eine Weitere Nacht In Der Hölle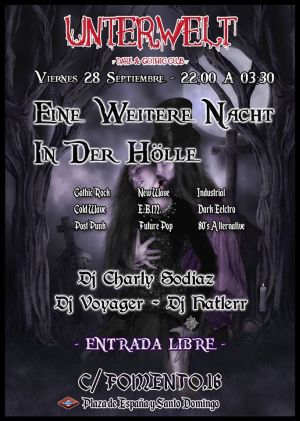 Este viernes en " UNTERWELT " queremos ofreceros una fiesta con lo mejor de la música oscura , podremos escuchar desde la guitaras mas canallas hasta el electro mas potente, de los grupos mas representativos y clásicos hasta los temas mas innovadores y novedosos , con un especial DJ SET que todos nuestros dj´s que han preparado los mejores temas de sus material discográfico para haceros bailar toda la noche con la mejor música que os puede ofrecer la escena oscura madrileña.


Podréis escuchar lo mejor de : Gothic Rock, Gothic Metal, Post Punk, Industrial Metal, Tehcno Pop, Synth Pop, Future Pop, E.B.M, Industrial, Electro...

Con grupos como:

Ashbury Heights, Seelennacht, Blutengel, Aesthetic Perfection, OST+FRONT, Combichrist, Suicide Commando, Nitzer Ebb, Front 242, March Violets, The Wake, Technomancer, Solar Fake, VNV Nation, Clan of Xymox, Trisomie 21, The Cult, The Wake, The Sisters Of Mercy, Fields of the Nephilim, The Cure, The Mission, Soror Dolorosa, She Past Away, Alien Sex Fiend, Depeche Mode, The Cure, IAMX, Sneaker Pimps, William Control, Joy Division, David Bowie, Duran Duran, Spandau Ballet, The Human League, Pet Shop Boys, Talk Talk, Kraftwerk, Hurts, Placebo, Nine Inch Nails, Linkin Park, Marilyn Manson, Rob Zombie, Rammstein, SlipKnoT, Crystal Castles, Client, Ladytron, Daft Punk, Blur, Gorillaz, Kings Of Leon, Foo Fighters, Green Day, Red Hot Chili Peppers, Muse, The Smiths, The Who, The Clash, The Jam, Madness., Ultimatum, Niños del Brasil, Silica Gel, Zedna, Assemblage 23, Mondträume, Machinista, S.P.O.C.K., Sequencia, Qun Qun, VNV Nation, Ginger///Slap5, Culture Kültur, Frozen Plasma, Emilie Autumn, Amduscia, Hocico, Colony5, High Level Static, Chrom, Spektralized, Distatix, FGFC820, Noblesse Obligue, Unity One, Neuroticfish, Nature Destroyed, Grendel, Xperiment, Invaders from Mars, Agonoize, Funker Vogt, Icon of coil/Combichrist, Das Kollektiev, Herzschlag, Centhron, Nydhog, [SITD], Mental Discipline, Die Krupps o Galaxy Hunter.........y muchos mas.

Y para esta noche nos traerán lo mejor música:

Dj Charly Sodiaz

Dj Voyager

Dj Hatlerr


Os esperamos este Viernes día 28 en " UNTERWELT "

C/ Fomento, 16 - 28013 Madrid

Metros Plaza de España y Santo Domingo

Refrescos y Red Bull a 3 euros

Copas a 6 euros

Suplemento de 1 euro para copas con Jägermeister, Jack Daniels o Red Bull

Minis de Cerveza y Kalimotxo: 1 por 5
euros

2 por 9 euros

Cervezas:

Becks a 3 euros

Mahou, Paulaner, Franziskaner, Franziskaner Dunkel, Spaten, Bieschof, Becks, y varias novedades a 4 euros

Chupitos a 2 euros

¡¡¡ ENTRADA GRATIS!!!!!
https://www.facebook.com/events/2133210426919902/