We Are Unique
(bk)
French band Darkness Dynamite have just released their debut "The Astonishing Fury Of Mankind", and like it's the case with many of their countrymen, this album is not just another metalcore/ modern metal clone, but has a strong personality of its own. So we sent a few questions to know more about this very promising newcomer, which bass player Chris kindly answered: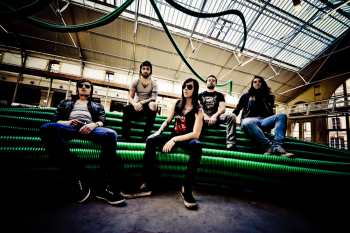 Q:
First of all, congratulations to your debut album... are you glad itís finally done? Are you satisfied with it?
Chris:
Of course, weíre very glad to have finished this record, we worked on it so hard and for too long. This release is an accomplishment for the band. We are so proud to share it with the world.
Q:
You started the band only two years ago. How did that happen? Had you had previous experience in other bands?
Chris:
Our first singer wanted to find some musicians to create Darkness Dynamite. At the beginning, he found Zack as guitar player and Alex our first drummer. Then Cris and Nelson joined the band as bass and guitar players. We began two tours in France and we decided pretty fast to record an EP. A few months later our first singer hadnít the same vision of music than the rest of the band, we decided to continue it without him! Junior became the new singer. Alex, our first drummer decided to leave the band to continue his studies. We contacted Julien Granger to be our new drummer and he accepted with pleasure. Junior Rodriguez is also drummer in Sublime Cadaveric Decomposition and Inhatred, he had a few bands as singer, drummer and guitar player. Julien Granger was the drummer of Today the Day and he also plays for Two Question Marks. Nelson, Cris and Zack had a few bands. Each member of Darkness Dynamite had a lot of experiences before forming Darkness Dynamite.
Q:
You play quite technically... what musical training did you get?
Chris:
Work, work and work again each day during years. As musicians we are artists and we wanted to be the best in what we do.
Q:
Things went very fast for you. Was that a surprise? Does this put extra pressure on a band?
Chris:
It is always a surprise to be signed on a such prestigious label as Metal Blade after just two years being. Since we started the band, we always wanted to be as fast and as huge as possible. We knew the potential of Darkness Dynamite, so we decided to involve it. When the band began to be famous, all professionals showed some interest, so we are accustomed to be under pressure.
Q:
When did you compose "The Astonishing Fury Of Mankind"? Are they all recent songs or have you also included older material?
Chris:
We started to write "The Astonishing Fury Of Mankind" the last year in april. Some songs were written by the old line-up but the majority of the album was written by the actual one.
Q:
Your music is very personal and original, not a copy of other bands. How do you write your songs? Have you got a main songwriter?
Chris:
We are a band, not individualities, each one of the band had a part in the writing process. We all defend our music so we need to be a part of it. Thatís why we are unique, we are Darkness Dynamite.
Q:
Can you tell me something about your lyrics or concept?
Chris:
We wanted to make a constation of the human being in our lyrics for this record, just put a mirror in front of us and see what happens. We didnít want to judge, to tell if itís wrong or right, just want to show everyone what they all are able to do.
Q:
What music has influenced you most? Other things beside music?
Chris:
We all are influenced by the 80/90ís bands, but bands like Guns NíRoses, Mastodon, Tool, Deftones, or Slipknot are influences in our music. Even electro, rock, or classic music are influences for us. Alcohol, drugs and women are a huge influence too.
Q:
There are many of modern metal bands coming from France now, as well as many good releases. Is there a strong scene?
Chris:
There isnít a strong scene in France, but good bands. The fact is that France is not a "rockíníroll country". Is very hard to have a famous band when you play metal here. Bands like Gojira helped a lot the french music to be seen by professionals.
Q:
Any tour plans for summer or fall?
Chris:
Of course, we wanted to touch the most people that we can. All the staff of Darkness Dynamite is working for us to tour a lot to play for all our fans, and to meet all the people who donít know us yet. Big things are coming, be patient...
Pic: Anthony Dubois/ www.metalblade.de