Swedish Metal'n'Roll
Interview with: Avatar
(Judith Sáez)
JOHANNES ECKERSTRÖM (AVATAR): "We love rock and roll just as much as we love metal. We wanted to blend them together this time."

They made their debut in Spain three years ago with Evergrey, and last time we saw them over here was in 2008 with Obituary. After spending this year dedicated to their new album the Swedish band AVATAR has been again in Spain, this time as the opening act for Hardcore Superstar. We took advantage of their concert in Madrid, first of the dates in our country, to talk with the singer JOHANNES ECKERSTRÖM about the tour and the new album they've come to promote.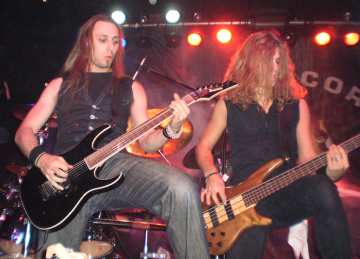 Q:
It's been almost the whole year without gigs, how does it feel to be back on the stages?
Johannes:
It feels really, really good because this album was really made for stages in a whole. We were thinking so much more than before on the live situation, which somehow gave us even greater urge to play live than ever before, so it's really good to be back on the stage.
Actually it's being really good. Somehow I still love metal but being doing rock shows, if you know what I mean, has some other party urge, so it's being great.
Q:
This is your third time in Spain. What do you think about the Spanish audience?
Johannes:
This is our first show in this tour and I'm very pleased. Under the circumstances it was great. Actually Spain has been really cool every time we've been here, so I always like coming back here.
Q:
Do you think tonight there have been more people than in the previous times?
Johannes:
Actually sadly no, because we've been in Madrid for instance three times, always with very different bands and with very different levels of promotion. So the sad part about this tour is that nobody knew we were coming. We were not on the posters, somebody messed up this time. It's been in every country, somebody messed up in the promotion, so everyone who's here are watching us for the first time. Next time I'm sure people will come back, it feels very promising now.
Q:
This time you're touring with Hardcore Superstar, a band you've supported in previous occasions. How's the relationship with them and the other bands you've toured with?
The relationship with Hardcore Superstar is great and the tour has turned us into brothers. It's the only way to do it, in my opinion. Living close to each other is easier if you become friends. We've made friends every time, but it was something special with Hardcore Superstar.
Q:
Let's talk about your new release now. There's a clear change in the sound of the band on this album. How do you think people will react to it?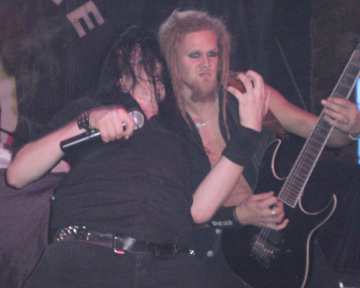 Johannes:
This far people seem to have enjoyed it very much, and most important we have enjoyed it very much, because "Schlacht" was a very extreme thing, it was all these fast kick drums, and I was singing like insane ("grrr…!!!") which was exhausting. It was great, it was a lot of fun but we also love rock and roll just as much as we love metal. We wanted to blend them together this time. So, this far, people seem to have enjoyed it a lot.
Q:
I read you've worked with a different producer this time…
Johannes:
Actually, yes and no. The guy who was our engineer on the last album, Sebastian Olsson, he recorded us last time but he took a greater role this time, and last time he didn't produced the vocals which he did this time with me. So it's new and old at the same time. The biggest difference is that Tobias Lindell, the guy who mixed the album did his work on it and he wasn't with us last time and he made a huge difference.
Q:
In which way?
Johannes:
Well, he's a very skilled and creative guy who really enjoyed what he heard. He went crazy with it, did lots of stuff with extra sounds and samples, and re-editing shit, but just because he liked it. So it's been a big step to have Tobias Lindell in this album.
Q:
I also read somewhere that John and Henrik were going to take part on the songwriting process this time…
Johannes:
Yeah, it's been a very mixed way of writing this time. If you look into the album when it comes out it won't have this Eckertröm/Jarlsby thing on it anymore, because everybody did something on everything. So we produced it and worked on it a lot together this time.
Q:
What can you tell us about the lyrics of the new songs?
Johannes:
On the first album I thought I knew everything about the world politically, on the second album I thought I realized how things work spiritually, and this time I realized I don't have a clue about anything. So this time I let the songs tell me what they wanted to be about. It's more a mixture of high and low, you know serious stuff, funny… it's mostly as old fashion story-telling, one song is about Bonnie and Clyde, one is a science-fiction story… And at the same time, it's becoming more personal, and I try to always get it more, more naked, so to speak.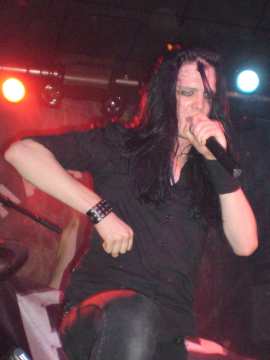 Q:
I have to say the previous album covers were very good, but I think this one is simply awesome. How do you work with Phillipp (von Preusche, art work for all the releases)?
Johannes:
He is my cousin. I realized this thing with the girl is not going anywhere creatively, it's not interesting for us anymore and we wanted to do it… It was a mixture of ideas, but something we realized is that in the 60s, lots and lots of the albums had the band on the cover, like Beatles, Rolling Stones or stuff like that. We wanted to do that thing but in our way and with his style of art. You know, the main product we try to sell is ourselves –we're whores (laughs).
Q:
In this album you've included violins and piano. What do these instruments give to your music?
Johannes:
Most of it, it was fun to write it and do it. We had this really epic song, "this one is the one we're going to make big". It's not enough with just me doing the vocals and everyone… but more stuff on it. It's always fun to put melodies on other instruments to give it another nuances.
Q:
You've also filmed a video for the single "The Great Pretender". What can you tell us about it and when will we able to watch it?
Johannes:
We'll see if we get it edited the way we want it to. It's supposed to be a very gory, brutal story about a guy who wants to see our shows and get backstage and has lots of bad luck. But we'll see what happens with it. It should be finished very soon.
Q:
In about two week's time you'll be back in Sweden and have your own headlining shows. How does it feel? How's playing in Sweden like?
Johannes:
It will be a lot of fun because at home we can do our full stage production, all we want to do live with the lights, effects and smoke and all of that, now we can finally do it because on this tour actually we have some of our light stuff with us, but we cannot use it when the venue is too small. But in some places we have and it's been really cool but it would be cool to do a show that we can fully control.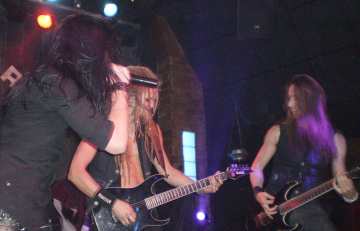 Q:
You'll be playing at Peace and Love festival next year. What's your opinion about festivals?
Johannes:
I love festivals. The best thing is sometimes we have the opportunity, we don't have anything else to do in the stage and you can stay for the whole festival. I really enjoy being in festivals. Second home.
Q:
Do you think they're a good way to promote the band?
Johannes:
Of course. Every show does, it's not different. Maybe the good thing about festivals as well is that there are people who come and see you who didn't know about you before, so it's a door opener, so to speak.
Q:
And what about Internet as a mean of promotion too?
Johannes:
Internet is great and we don't live in the 80s anymore, deal with it, it's all I can say about it.
Q:
But a lot of people would download music…
Johannes:
You can't fight it anymore, we can't have an opinion anymore because it's just ridiculous to fight it now. That's the way we live now and now we have to pay more to go to concerts or buy t-shirts. It's just the way it is. It would be cool to release albums which people really bought as books… But these times are passed us.
Q:
Now, a personal curiosity about you… How do you train your voice to growl like that and not get hoarse?
Johannes:
From the half way upper throat and down to the groin this part is the same whatever style of music you sing, whatever style of vocals you use. I've been training the classical way of vocal when singing. A growl is in one way kind of like a whisper, it's just to stop the tone so it becomes this "grrr.." (growls) sound. But everything else is just the same, normal vocal training, basically.
Q:
If we look back into your career, you've recorded three albums, toured all across Europe, visited the US, supported big bands (such as In Flames, Megadeth, Obituary or Evergrey)… What's the next goal for Avatar?
Johannes:
Just keep on doing what we're doing. Long, long time ago me and John talked about how dreams change into goals. "Wouldn't it be cool to play with a band on a stage?" That was a dream when I was 13, and now, I meet some guys, start to play with them… Someday it becomes a goal. Now, ok, we have a show to play, we have to rehearse. We just take it step by step. "Wouldn't it be awesome to play for one million people on the moon?" We just take it step by step. So…, make sure that people will remember us on this tour –I think they will, and go home, write a little because we will make a new album sometime in the future, and then make sure to play more shows, keep on working on it.
Q:
Finally, is there anything you want to add for your fans?
Johannes:
I hope they will check out our new stuff, enjoy the rock'n'roll and come to our shows and have fun.
Q:
Thank you very much for your time and your answers.
Johannes:
It was a pleasure.
Text and photographs: Judith Sáez