Slavic Mythology and Metal
(bk)
Darzamat are a Gothic Metal Band from Pomand which stands out in its genre because of its being strongly influenced by progressive and experimental music. "Solfernus' Path" was an extremely interesting album you can listen to again and again, full of music which makes the most sceptic who doesn't usually listen to Gothic Metal prick his or her ears... reason enough to send Darzamat a few questions about their music, lyrics and concept: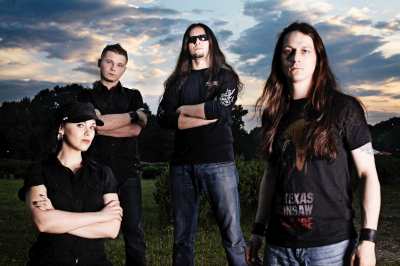 Q:
Congratulations to your new album, it's very varied and interesting... how long did it take to write and record such a complex piece of work?
Darzamat:
Thank You very much! This time everything began with creating the concept and writing the lyrics. Only when I was done with that did we begin writing the actual music. This burden was mainly to be carried by Chris, our guitar player, and Spectre, the keyboard man, but I kept a vigilant eye and ear on what was going on at the moment. I worked with them to make sure they would reflect the story of the Solfernus Path in the best way they could. Later, together with Nera, we began arranging the pieces, then we introduced corrections to what we'd done so far, and - finally - we worked with Spectre to come up with atmospheric intros to round off the whole project.
We began working on our new album in the fall of 2007, right after the release of our first DVD, Live Profanity. This was a really specific moment for us, since releasing this material marked the fulfillment of the final contract obligations for our Polish label, Metal Mind Productions. It was then that we decided not to renew our contract with MMP but to try another label instead. For that reason there were no deadlines for us to worry about. As no date was scheduled for our next release, we were in no hurry, so we took some time and entered the studio in the winter to record all the tracks.
I must admit that the situation during the Solfernus Path sessions was very comfortable. We weren't concerned with economizing at all: our sole concern was the quality of the album, which is why during the sessions we worked in as many as three different studios. All the instruments and vocal tracks were laid down in Poland under the scrutinizing eye - and ear - of our sound engineer, Jaroslaw Toiffl. We worked on the drums and guitars in HH Poland studio in Gliwice; the vocals were done in Maq Studio. As to the keyboard parts, we got these done in Red Room studio. For each instrument we chose the most optimal place to lay down the tracks and we spent quite some time analyzing all the elements of this puzzle. We listened to various bands produced in those places and at the end of the day we didn't have any doubt as to our choices - they were simply perfect. The only thing that mattered was the effect total, and we are positive it will satisfy the biggest of malcontents. Hence, the process of recording took us over a month; after that, the songs were mixed in Sweden by Jonas Kjellgren - the Scar Symmetry axeman - in Black Lounge Studios. Frankly, it turned out that Mr. Perfect Symmetry was in no hurry either: his work took around four weeks. But I'm the first in line to admit that the finished album sounds excellent, so it was well worth the wait.
Q:
You've been around for a long time now, but you weren't very well known in (Western) Europe until a few years ago. How did you get in touch with Massacre Records and do you think that's an important step to spread your music further?
Darzamat:
As far back as in the late 90 we were close to signing a deal with them; unfortunately it didn't come through. So, after all these years we are all the more thrilled to see that the Solfernus Path ultimately led us back to Massacre Records door (laughs) and that finally we will have a chance to work together.
As far as our expectations are concerned, we'd really appreciate much better promotion of our band than we experienced before. The previous companies we worked with had much, much smaller possibilities. That is why I'm positive that thanks to Massacre Records we will take a leap forward. I firmly believe that the experience which the MR staff has gained over the years will result in the chance for many more to even get a hold of Darzamat's albums. We put a lot of hope in the promotion and distribution prospects of the Solfernus Path album and also we are really looking forward with great curiosity to seeing the fruit of our cooperation with Massacre Records over our future albums.
Q:
As far as I know there are a lot of Polish death and black metal bands, how about a more progressive/ symphonic approach to music? Is there a scene for that as well?
Darzamat:
It is true that the Polish music scene is primarily known from great black/death metal bands. So it's only logical that young bands which appear take it as their ambition to follow in Vader's or Behemoth's footsteps. When it comes to a more atmospheric music, well, that is more of a problem here. First, a lot of bands became disheartened and simply stopped playing their music; also, Poland has never been big on a more atmospheric approach to making music. There are quite spectacular exceptions to this rule, like Riverside, the prog-rock act already known all over the world, but they still count as an exception.
Q:
I saw that you also have a deal with a Japanese label. Do you have many fans in Japan?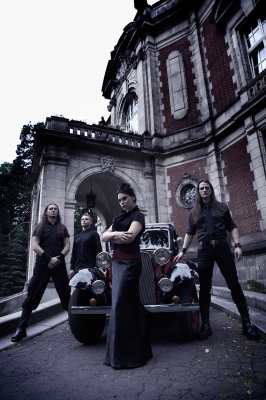 Darzamat:
It's true, Solfernus' Path has been released on the Japanese market as well, thanks to the licence secured by the Tokyo based Spiritual Beast. Still, it serves as our debut in Japan, so at this point it would be really hard to say whether we already have a fanbase there. We are getting some very positive feedback from those parts of the world, but I suspect that it will take us a lot of promotional effort to effectively make our mark there.
Q:
What influences have made an impact on your music? I guess there are a lot...
Darzamat:
Most frequently when you begin playing yourself, the sounds which start flowing out are some sort of a resultant of what you listen to. It was no different in our case, but if we were to define Darzamat's style today, any attempt at clear-cut classification would be very difficult. There is a huge set of elements characteristic for many different metal sub-genres that you will find here. You will hear black metal riffs, you will hear death metal riffs, you will even hear references to the good old thrash school. Additionally, the crucial factor in our music is the gloomy gothic mood which we weave into our songs. What I love about this band is that we constantly search for different inspirations and styles, that we constantly try to evolve. We don't stand in the same spot and record albums which sound alike. But - and we are conscious of that - when our fans reach for the new album, they never feel disappointed or misled - it's still Darzamat, all the way through. But I think our musical search and the creative whirls will continue in this band.
Q:
You've been working with Andy LaRocque on various albums. On this one, too? How was the experience?
Darzamat:
This is some sort of a misunderstanding which surfaced only lately, so I make haste to correct it: the production of the Solfernus' Path was handled by Jonas Kjellgren. It was the Scar Symmetry axeman who mixed our new album.
We were well acquainted with Jonas's previous production work: Katatonia, Sonic Syndicate, Centinex or Steel Attack, to name but a few. But it was our friend Marek Dobrowolski, drummer for One Man Army and the Undead Quartet, who recommended Jonas to us, as he had worked with him before and knows his skills and abilities first-hand. The preliminary talks with the Scar Symmetry guitar player made us feel very optimistic. Jonas mixed one song of ours and the effect was staggering. It only reinforced the idea that it had to be him. The cooperation was smooth; Jonas is very patient and listens carefully to any sort of suggestions from the band. In my view, he is presently one of the best young generation producers, in Europe anyway.
As for Andy La Rocque, he did make his appearance on the album, but in a different role. He played a guitar solo in our song, "King of the Burning Anthems".
Andy is not only an excellent guitar player and a producer, but also a great personality. Yes, we did meet during the sessions for our previous album. We've been in touch ever since, and when another occasion for cooperation arose, we didn't hesitate for a second. Him playing a solo on a Darzamat album was a dream come true; it was really supernatural that he agreed to participate in the sessions. This is the most important album in the history of the band, and it took us a lot of work. We poured loads of energy and emotions into it, and the presence of La Rocque on this album is the crown jewel in the whole structure. I take enormous pride in the fact that he is there, because so far all the records he has appeared on as guest performer are special.
Q:
You've had quite a few line-up changes in your band history, I think... what happened? Was the band as such in danger at any time?
Darzamat:
Naturally some minor line-up changes still occur, for many different reasons. People reach a certain age when they want to center their attentions on family or on work other than music, and they simply don't have enough time. In other cases, some people reach a stage in their musical development when paths that once overlapped start to diverge. Such situations are commonplace and as such they aren't anything extraordinary. Still, the most important thing is that Darzamat still has its unchanged core, made up of our vocalist Nera, our composer slash guitar hero, Chris, and me, of course.
Q:
What impact did the personell changes have on the evolution of the music?
Darzamat:
This is a very specific matter for us. True, we've been around for 14 years, but the history of Darzamat has been written in two - shall we say - volumes. What I mean is that in 2003 we had a revolution in the ranks and the result was simple: of all the pre-2003 era musicians practically only I remain. This resulted in a serious change - in musical direction, in style, in image. I wanted to refresh Darzamat, which basically meant putting a new band together. Before, it had been really hard for me to find a compromise with the original founding member, Simon. Our visions as to what the band should sound and look like had been completely different; our priorities had differed. Back in 2003 I even thought I should start a totally new project, but many people made it a point to convince me to continue with Darzamat. That is why the history of the Darzamat-as-we-know-it-now really dates back to 2003. This fresh lineup has been responsible for Semidevilish, Transkarpatia, and Solfernus Path, as well as the DVD Live Profanity. We also began playing live, which we hadn't done before, in the 90s. That band had been solely a studio effort.
Q:
I read that the band name comes from a Slavonic deity... what are your lyrics about? Is "Solfernus' Path" a concept album?
Darzamat:
Well, it goes all the way back to the moment when we were gathering the band together, of course. The word comes from Slavic mythology - Latvian, to be exact. There, Darzamat was a deity which took care of forests and gardens. We chose this as our name since its mysteriousness and enigmatic character ideally fitted the music we composed. When it comes to the lyrics, they are not necessarily confined to 'the slavonic matters'. We are much more open to stimulae from other parts of the world than it might seem (laughs).
Coming back to the etymology of the band name, it owes more to my own interests rather than any ideological vector which would thus be defined for the purposes of our music. On the other hand it is, of course, heavily symbolic since it brings to mind our roots.
Yeah, for the first time in our history we decided to create a concept album. The idea was a novelty, but to be honest we had been thinking of such a move for quite some time. Since the days of my youth I've been fascinated with concept albums, such as released by, say, King Diamond. So that move was simply unavoidable, it was just a question of time.
A coherent story to be told by lyrics and music alike is much more of a challenge than fashioning ten new songs in the same stylistic vein. As the story unfolds, so does the music and both elements have to go hand in hand. It is, in a way, like a movie script, created to pull the audience in.
The story told on the album takes place in a mystic scenery as provided by Countess Josephine von Küchmeister's manor, the inspiration for which we derived from two truly fantastic places in Silesia, namely the Willa Caro in Gliwice and the palace in Plawniowice. The tale itself is set in the beginning of the 20th century. Our main hero is a young medical student who undergoes a spiritual transformation - he experiences the existence of the incorporeal world and perceives the other side. The whole story is permeated by a fairytale-like atmosphere, full of occult key concepts. Nothing is obvious, nothing is predictable.
Naturally, the eponymous Solfernus is not the main hero, he's just a gray eminence. This character is respectfully lifted from a work entitled Playing with the Devil, written by Czech dramatist Jan Drda. Still, this is just inspiration, an impulse which does not mean we take Drda's story as-is. In fact, his play is grotesque and rather humorous. Our story, on the other - left! - hand (laughs) has a totally different character, closer to horror stories of a Polish classic Stefan Grabinski than to the work of the Czech playwright.
Q:
What are your next plans? Can we expect a tour anytime soon? What bands would you like to tour with?
Darzamat:
I'm pretty sure that we will be promoting the new stuff in the near future. We will soon start working on new tracks. It seems it's gonna be tremendously hard as we should record a better stuff than "Solfernus' Path" (laughs).
Naturally we will want to play as many gigs as possible to promote our new album. At this moment we are in the process of looking for the right concert agency which would lay their support for us. I hope that in a couple of weeks we will be able to disclose what our choice in this matter is.
Still, we want to get some action before that is settled, so we started booking the dates ourselves and this year we are playing festivals in Belgium and Mexico. Also, in February 2010 we are scheduled to do a 10 gig tour of Poland. We're looking forward to some serious touring around Europe in a good company.
There are many bands we would like to go on a tour with. We would fancy playing with Arch Enemy, Moonspell or Samael. Frankly, I could mention so much more bands. Anyway, the most important for us is just to feel good in company of another band. You know when people are supposed to spend a couple of weeks together, it's better when they are on the same wavelength.
Q:
Last words...
Darzamat:
Thank you for your support. Thanks for your interest in Darzamat and I hope to see you some day at a concert! Stay metal!
Photos: Sebastian Cviq / http://www.massacre-records.de/